Abused and Ashed On

Abused and Ashed On description: Cruel and sadistic Payton Hall smokes a cigarette while giving this poor sap a rub down. She ties him up and proceeds to ash over his body as she milks his hard cock. Payton is so cruel when the guy is ready to cum she ruins his orgasm by pulling away watching his semen shoot all over the place.
MEMBERS WHO LIKED THIS SCENE ALSO LIKED
Full Release for a Price
Date: May 14, 2022,
06:32 HD Video / 45 Pictures
Payton Hall is an experienced massage therapist who is skilled in the art of giving guys the best full release massages. Her technique is second to none. And Brad is no exception as he gets blindfolded, teased and eventually brought to an intense orgasm as evidenced by his big cumshot.
Orgasm Control with Jade Jantzen
Date: December 2, 2022,
13:19 HD Video / 171 Pictures
Any guy willing to expose his throbbing hard cock at Jade Jantzen during her massage is in for a cruel happy ending because this masseuse can be very mean. She agrees to jerk Mikes cock, but intense arousal and psychological need turns him into a whimpering sissy as she ruins his anticipated orgasm.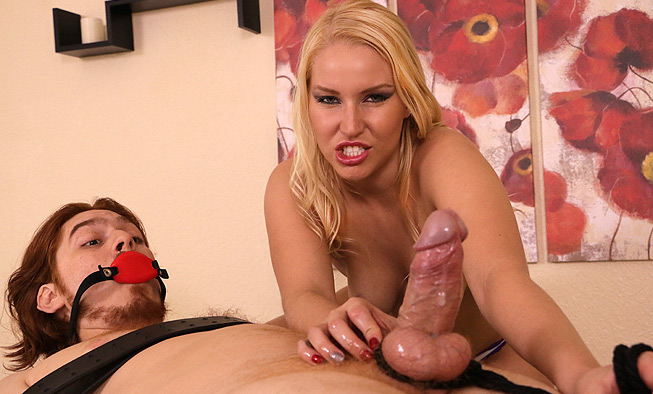 Twitch and Bitch
Date: June 18, 2022,
13:48 HD Video / 115 Pictures
Vanessa Cage is a tough woman and takes zero shits from anyone who crosses her. This sexy massage therapistsh decides to tie her customer on the massage table and gag him. The blonde hottie is going to give him a massage he will never forget. She teases and tortures him while denying his orgasm, until he is squirming for mercy. Finally, the dominant babe ruins his orgasm and leaves him begging for some cum release.