Dolly Leigh: Tease My Sensitive Tip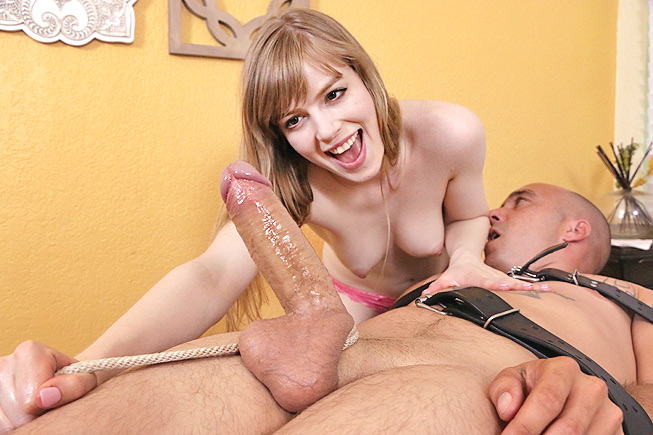 Dolly Leigh: Tease My Sensitive Tip description: Your cock swells up when you take one look at your massage therapist Dolly Leigh. She hot and she seems like shes good to milk your dick. But when you ask her for a handjob, she agrees under one condition...that she ties and straps you to the table. She torments you by teasing your cockhead, and all your sensitive parts.
MEMBERS WHO LIKED THIS SCENE ALSO LIKED
Lexi Rainz: She Tortured Him
Date: February 19, 2022,
11:33 HD Video / 259 Pictures
Fitness model and massage therapist Lexi Rainz deals with assholes all day long so the last thing she needs is another asshole asking for a happy ending rub n tug. She puts this man in his place by tying him up, and binding him to the massage table. The dude is immobile and it at her complete control. Meanwhile, Lexi Rainz is dishing out a cock milking and she wont stop until his orgasm is ruined in a big way.
Stroke It Out
Date: January 8, 2022,
07:39 HD Video / 60 Pictures
Isabella Gonzalez is a naughty teen masseuse who does not like perverted customers. Today she is asked for an extra service and she does not want to disappoint her client. While the perverted man is blindfold she uses her plastic sex toy to fuck his cock, making him think he is actually fucking her teen pussy. The cute masseuse makes this man cum for her but she is never going to let him know the truth. "Did my pussy feel good, you pervert?"
Vicky Vixxx: Tied and Bound
Date: November 16, 2023,
11:27 HD Video / 56 Pictures
Meeting a new client is often intimidating for an untrained masseuse but Vicky Vixxx has been massaging men for a while so she's not new to this rodeo which explains why she's so comfortable with her client. In fact she bypasses traditional massaging and heads straight to the kinky part by convincing the horny client to play along with her games.