Sabrina Paige: Cock Twitch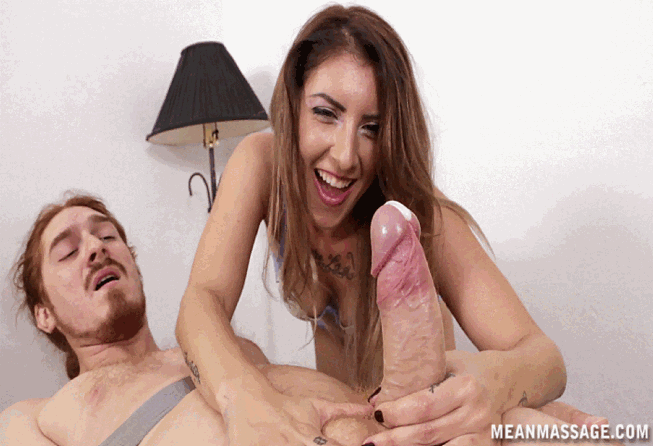 Sabrina Paige: Cock Twitch description: Sabrina Paige likes to tease and torment your cock with her soft hands. She rubs her palm around your cock head and massages your swollen balls at the same time. Your dick oozes pre cum and you need to cum in a bad way. She doesn't think you can hold out much longer so she takes mercy on you and continues to rub your sensitive cockhead and she wont stop until you cum.
MEMBERS WHO LIKED THIS SCENE ALSO LIKED
Wrapped and Released
Date: May 21, 2022,
13:59 HD Video / 151 Pictures
All poor Brian wants is a happy ending but Nicki Ortega has a much better plan. She immobilizes him on the massage table with saran wrap and ties his balls tight while his cock twitches with teasing pleasure. Watch as she teases and tortures him by denying his orgasm until he pleads for a release.
Stroke It Out
Date: January 8, 2022,
07:39 HD Video / 60 Pictures
Isabella Gonzalez is a naughty teen masseuse who does not like perverted customers. Today she is asked for an extra service and she does not want to disappoint her client. While the perverted man is blindfold she uses her plastic sex toy to fuck his cock, making him think he is actually fucking her teen pussy. The cute masseuse makes this man cum for her but she is never going to let him know the truth. "Did my pussy feel good, you pervert?"
Ally Tate: Aching to Ejaculate
Date: July 7, 2023,
11:24 HD Video / 246 Pictures
Your cock gets erect the moment you see Ally Tate is your massage therapist. She's petite and gentle, and this turns you on in a big way. She rubs you down and torments you with her sexy voice. Your hard cock pokes out of your towel and she takes notice. Her eyes widen and you know at this point shes going to rub it too. She grips your cock and pumps it a few times. This turns her on too. Your cock tingles and your about to explode and when you do your in for a ruined orgasm.