Sadie Pop: Tied and Bound
Sadie Pop: Tied and Bound description: Don't let petite teenager Sadie Pop fool you with her innocent looks because this little brat is all about being cruel with your hard cock. When you ask her for a happy ending, she obliges but you had no idea the little teen would tie you yup up and immobilize you before stroking your cock head. But she ends up ruining your much anticipated orgasm.
MEMBERS WHO LIKED THIS SCENE ALSO LIKED
Cum On My Command
Date: June 11, 2022,
14:12 HD Video / 114 Pictures
When Jake asks for a happy ending, big busty babe Jamie Valentine finds the chance to take the upper hand. She does not intend to make him cum so easily so she brings ghim to the edge and ruins his orgasm over and over. The poor sap is about to cry while the sexy masseuse enjoys every moment of teasing and torture.
Hard Cumshot from Tickle Torture with Christina Skye
Date: March 17, 2023,
09:44 HD Video / 40 Pictures
Christina Skye is a cruel bitch. She teases this man to no end, jerks his hard throbbing cock and then tickles him during and after his orgasm. This guy cums so hard from Christina's incessant teasing he shoots his load five feet in the air. Christina further tortures him post orgasm in this hot new massage episode.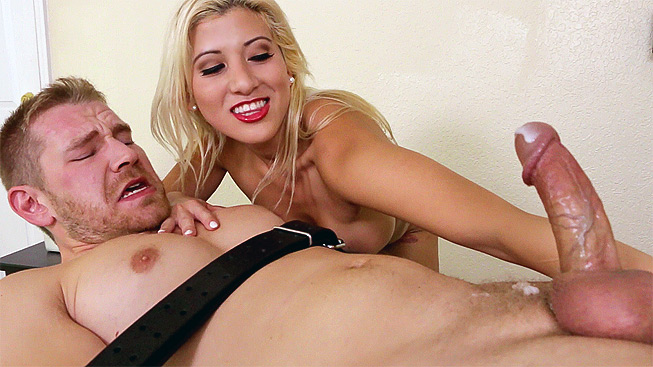 Cristi Ann: I Denied Him
Date: December 30, 2022,
12:25 HD Video / 182 Pictures
Cristi Ann is a very skilled and highly trained massage therapist, but what she didn't tell Jake is that she offers happy endings too. Only that he must be bound to the table first. She titty fucks him and teases him and just as the poor sap if about to explode she pulls away, laughing at his twitching cock as it spurts out semen.