Sweet Release
Sweet Release description: When Flynt's new client wants more than just a massage, he is hesitant to oblige because its against policy. But she is so hot he cant help but pull out his cock and have the horny woman start stroking it right then and there. Stacy pulls and strokes on his cock so well he cums instantly between her soft hands.
MEMBERS WHO LIKED THIS SCENE ALSO LIKED
Brutal Femdom Massage
Date: September 15, 2023,
08:59 HD Video / 79 Pictures
Feisty latina teen Sophia Leone crashes her moms car and asks her step dad to take the blame but he knows that doing that will put him in the sexless dog house for months so he reaches a compromise with the teen babe where he makes her give him all the sex he wants in exchange for him enduring his wifes wrath on her behalf. The horny step father makes the slender teen suck his giant cock before fucking her in three different positions and eventually shooting his creamy load all over her face.
Aria Michaels: Tied, Bound and Teased
Date: June 6, 2021,
09:24 HD Video / 231 Pictures
Aria Michaels may looks innocent but she knows how to handle guys like Tom. This guy wants to take advantage of the innocent massage therapist only to get the tables turned on him. Aria ties and binds him to the table and proceeds to milk his pulsating cockhead to the point he begs for her to let him cum and when she does she ruins his orgasm big time.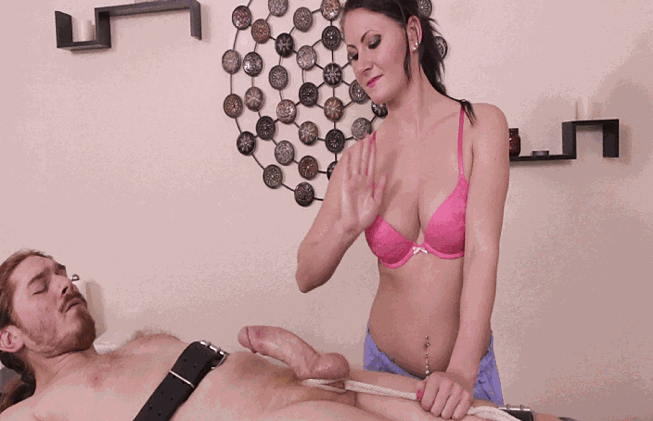 Stella Stone: Painful Teasing with Torture
Date: April 7, 2023,
11:09 HD Video / 206 Pictures
What starts out as a simple session soon turns into a rather painful handjob for a horny man when his beautiful masseuse Stella Stone unleashes her darker side on him. She straps him down to her table rendering him completely helpless and then proceeds to tightly wrap a rope around his balls and the base of his cock, teasing and torturing him into agony.