MEMBERS WHO LIKED THIS SCENE ALSO LIKED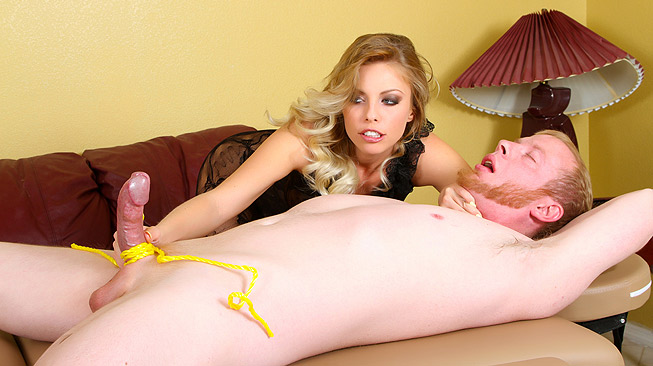 Too Much Pre-Cum
Date: December 4, 2021,
15:23 HD Video / 116 Pictures
Britney Amber is a professional masseuse who likes kinky situations. The blonde sex bomb welcomes Mitch, her 2 o'clock appointment and she has a special treatment in mind for him. The dominant lady notices her touches cause her client a hard on, so she decides to show him who is the boss here. She starts slapping and stroking his dick, and then, she uses rope to tie his erected boner tightly and teases it with her black leather boots. Finally, the blonde hottie ruins the poor guys orgasm and lets him lying on the massage table.
Avery Moon: Tied, Bound then Jerked
Date: November 20, 2021,
13:14 HD Video / 204 Pictures
If you want to be pampered by Avery Moon then youd better give her a good tip. Mike finds out the hard way when he asks to get his cock milked but the skinny teen takes exception so she ties him up and binds him to a table, then covers his face and jerks him off but then she ruins it for him.
Kendra Heart - Tease His Tip
Date: July 25, 2021,
12:31 HD Video / 50 Pictures
When Kendra Heart walks in on John, she can tell right away the guys is just looking to get his cock milked, so the mean queen decides to tease his throbbing cock tip by rubbing it with her vibrator. The sensations make him tense up and he quickly looses control as she brings him to the brink of spurting his warm white seed from her incessant cock tip teasing and torture.