Addie Andrews: Ruined Orgasm Queen

Addie Andrews: Ruined Orgasm Queen description: You can call her Addie Andrews or you can call her the ruined orgasm queen because thats what happened to Mike when he tried to pull a fast one after his sensual massage. Addie Andrews is not one to be fucked around with, so this blonde porn babe gave him a rub n tug he wont ever forget. She brings him to the brink, only to pull away when his dick starts to spurt that warm white cum.
MEMBERS WHO LIKED THIS SCENE ALSO LIKED
Wrapped and Released
Date: May 21, 2022,
13:59 HD Video / 151 Pictures
All poor Brian wants is a happy ending but Nicki Ortega has a much better plan. She immobilizes him on the massage table with saran wrap and ties his balls tight while his cock twitches with teasing pleasure. Watch as she teases and tortures him by denying his orgasm until he pleads for a release.
Maya Bijou: Cruel Happy Ending
Date: August 4, 2023,
08:18 HD Video / 129 Pictures
Maya Bijou gets off on making men squirt white cum from their throbbing cocks. Making a man cum can be mutually satisfying to a woman like Maya. And she gets horny as fuck when Mike begins jerking his cock in front of her. But Maya also gets off on teasing men to the point they cannot contain themselves and their cocks explode even harder. When she teases Mikes cock head, this almost makes him explode, but she pulls back and pummels his cock and balls. And when he reaches the point of orgasm he is in for a cruel surprise.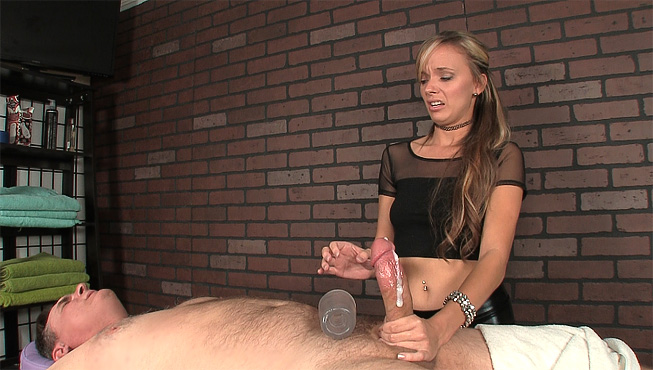 Pristine Edge: The Harder it Gets
Date: September 24, 2022,
08:21 HD Video / 76 Pictures
Pristine Edge gets off by being in complete and total control while teasing big hard cocks. And the harder they get, the more it turns her on. Good news for Pristine, Joe is horny as fuck with a rock hard dick for her. Pristine teases the hell out of him to the point he cannot control himself and begs and pleads with her to finish him off.