Kendra Heart - Tease His Tip

Kendra Heart - Tease His Tip description: When Kendra Heart walks in on John, she can tell right away the guys is just looking to get his cock milked, so the mean queen decides to tease his throbbing cock tip by rubbing it with her vibrator. The sensations make him tense up and he quickly looses control as she brings him to the brink of spurting his warm white seed from her incessant cock tip teasing and torture.
MEMBERS WHO LIKED THIS SCENE ALSO LIKED
Post Orgasm Agony
Date: July 16, 2022,
10:39 HD Video / 48 Pictures
Charlee Chase loves giving massages because she not only gets to make her clients relax from a stress filled day, but when she's feeling horny she will jerk their cocks too. When Charlee finishes rubbing Kyle down she can tell he is very excited by his erect throbbing cock fully exposed. She gives him a quick stroke when he pops his top instantly, only to be stroked post orgasm in agony as she rubs his quivering cock.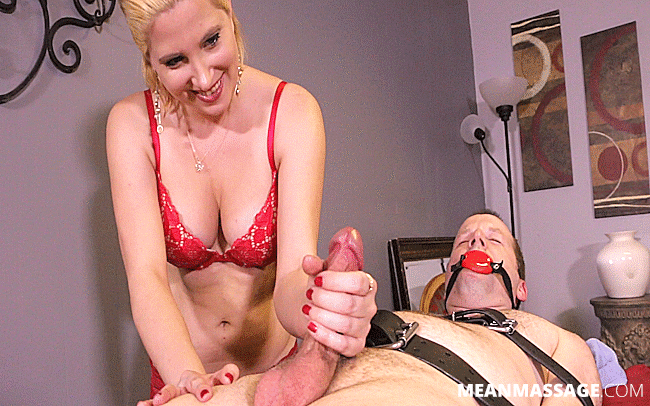 Orgasm Denied - Sandra
Date: October 31, 2021,
11:43 HD Video / 156 Pictures
Any masseuse can give a happy ending, but Sandra takes it to a different level when she toed and binds her client to the table and wont stop teasing him until he begs her to stop. This poor sucker things hes going to spurt his man goo, but instead this cruel bitch ruins it for him in a big way.
Dominate Him - Dana Wolf
Date: March 26, 2022,
13:20 HD Video / 234 Pictures
If your a fan of hot chicks dishing out sensual massage happy endings, then this scene isnt for you. Dana Wolf gives him an unhappy ending to sick the poor dude almost started crying LOL. She ties and binds him on the table and proceeds to tease the ever loving shit out of his cock only to ruin it for him.