Rose Woods: Tied and Bound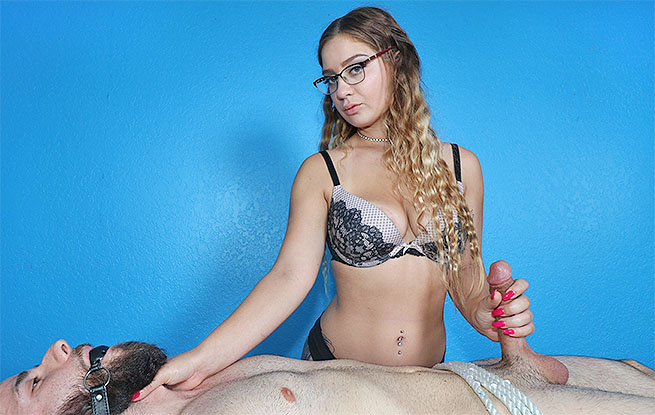 Rose Woods: Tied and Bound description: Teenage massage therapist Rose Woods is definitely inexperienced, but dont let her innocence fool you, because when she ties up and binds her client to her massage table, she teases the fuck out of him. The cute amateur jerks his cockhead and slaps his shaft delaying his orgasm and when he does finally cum she ruins his massage experience.
MEMBERS WHO LIKED THIS SCENE ALSO LIKED
Sophia Leone: Handjob Domination
Date: February 12, 2022,
10:45 HD Video / 112 Pictures
Would you like Sophia Leone give you a happy ending? Of course you would – and so would the asshole in this video. He's clearly never booked an appointment with her otherwise he'd know that she frowns upon getting asked for a handjob. In fact, she has a special punishment of tying people down and punishing them.
Misha Mynx: Unhappy Endings
Date: March 12, 2022,
12:34 HD Video / 274 Pictures
Misha Mynx is a French girl but don't let her slight accent fool you, shes the queen of mean. When Billy starts jerking his cock in front of her during his massage, she sort of got turned on. But that would violate her job as a therapist, plus she might get fired. Well firing be damned because she ends up giving in and instead ruins his poor orgasm.
Extreme Case of Blue Balls
Date: November 11, 2022,
15:50 HD Video / 286 Pictures
MILF Massage therapist Daisy Dalton is one cruel bitch, all because Kyle wanted a handjob she decided to ruin his orgasm in a big way. She jerks him off so good, the kid almost blows his load in seconds, only she pulls back every time his balls tighten up. After an eternity of handjobing and stroking his throbbing dick he blows his was only to have her pull away.