MEMBERS WHO LIKED THIS SCENE ALSO LIKED
Post Orgasm Agony
Date: July 16, 2022,
10:39 HD Video / 48 Pictures
Charlee Chase loves giving massages because she not only gets to make her clients relax from a stress filled day, but when she's feeling horny she will jerk their cocks too. When Charlee finishes rubbing Kyle down she can tell he is very excited by his erect throbbing cock fully exposed. She gives him a quick stroke when he pops his top instantly, only to be stroked post orgasm in agony as she rubs his quivering cock.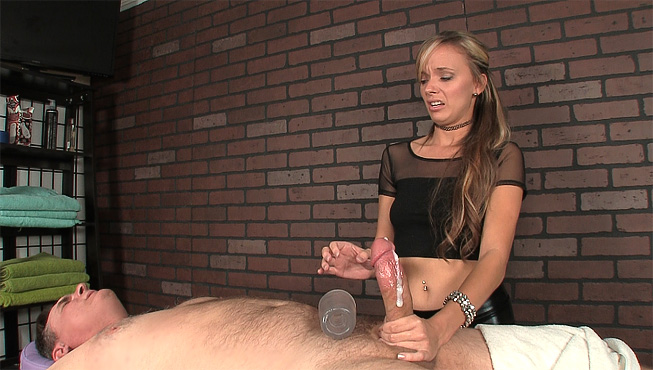 Pristine Edge: The Harder it Gets
Date: September 24, 2022,
08:21 HD Video / 76 Pictures
Pristine Edge gets off by being in complete and total control while teasing big hard cocks. And the harder they get, the more it turns her on. Good news for Pristine, Joe is horny as fuck with a rock hard dick for her. Pristine teases the hell out of him to the point he cannot control himself and begs and pleads with her to finish him off.
Brutal Femdom Massage
Date: September 15, 2023,
08:59 HD Video / 79 Pictures
Feisty latina teen Sophia Leone crashes her moms car and asks her step dad to take the blame but he knows that doing that will put him in the sexless dog house for months so he reaches a compromise with the teen babe where he makes her give him all the sex he wants in exchange for him enduring his wifes wrath on her behalf. The horny step father makes the slender teen suck his giant cock before fucking her in three different positions and eventually shooting his creamy load all over her face.