Kitty Carrera Ruins Him

Kitty Carrera Ruins Him description: Kitty Carrera loves pampering her clients but she also likes to pamper herself when things get a little hot. Which is why when Dave pulls out his cock she agrees to milk it but she wants to cum first. She ties and binds him to the table and rides his face until she creams and them makes him cream in a big way by ruining his orgasm.
MEMBERS WHO LIKED THIS SCENE ALSO LIKED
Bobbi Dylan: Teasing His Tip
Date: May 12, 2023,
12:32 HD Video / 123 Pictures
Bobbi Dylan specializes in erotic massages but she also specializes in something much more satisfying, cock head teasing. When Mike gets erect Bobbi takes notice and offers to milk his cock, but with a price. She ties him, binds and blindfolded him and proceeds to tease his cock head so good he can barely contain himself. She laughs at his twitching dick as it spurts out his cumload over himself.
Vicky Vixxx: Tied and Bound
Date: November 16, 2023,
11:27 HD Video / 56 Pictures
Meeting a new client is often intimidating for an untrained masseuse but Vicky Vixxx has been massaging men for a while so she's not new to this rodeo which explains why she's so comfortable with her client. In fact she bypasses traditional massaging and heads straight to the kinky part by convincing the horny client to play along with her games.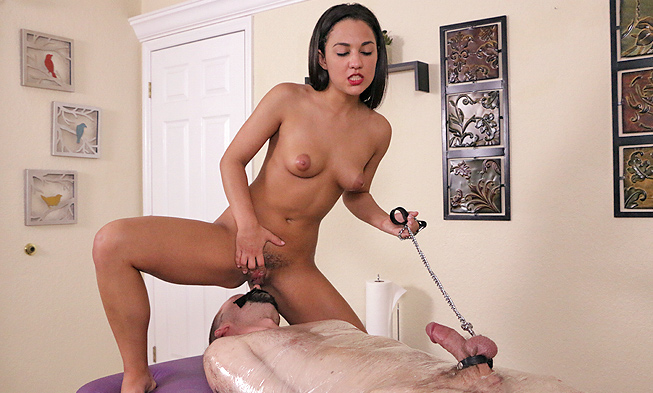 Cock Explosion from Amara Romani
Date: December 9, 2022,
12:15 HD Video / 191 Pictures
Amara Romani loves being in control, so, when she is asked to give a special massage, she knows exactly what to do. She brings this poor guy to the brink of orgasm over and over again. The intense feeling of his swollen balls doesn't help matter as he is in total control by Amara. But when his pleasing gets to hr she ruins his orgasm while his cock explodes.