Maya Bijou: Cruel Happy Ending

Maya Bijou: Cruel Happy Ending description: Maya Bijou gets off on making men squirt white cum from their throbbing cocks. Making a man cum can be mutually satisfying to a woman like Maya. And she gets horny as fuck when Mike begins jerking his cock in front of her. But Maya also gets off on teasing men to the point they cannot contain themselves and their cocks explode even harder. When she teases Mikes cock head, this almost makes him explode, but she pulls back and pummels his cock and balls. And when he reaches the point of orgasm he is in for a cruel surprise.
MEMBERS WHO LIKED THIS SCENE ALSO LIKED
Post Orgasm Agony
Date: July 16, 2022,
10:39 HD Video / 48 Pictures
Charlee Chase loves giving massages because she not only gets to make her clients relax from a stress filled day, but when she's feeling horny she will jerk their cocks too. When Charlee finishes rubbing Kyle down she can tell he is very excited by his erect throbbing cock fully exposed. She gives him a quick stroke when he pops his top instantly, only to be stroked post orgasm in agony as she rubs his quivering cock.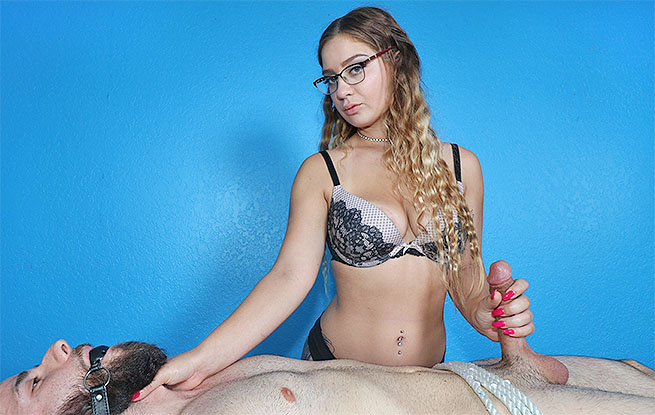 Rose Woods: Tied and Bound
Date: August 15, 2021,
10:03 HD Video / 47 Pictures
Teenage massage therapist Rose Woods is definitely inexperienced, but dont let her innocence fool you, because when she ties up and binds her client to her massage table, she teases the fuck out of him. The cute amateur jerks his cockhead and slaps his shaft delaying his orgasm and when he does finally cum she ruins his massage experience.
Alexis Fawx: You Made a Mess
Date: June 30, 2023,
12:15 HD Video / 147 Pictures
You want Alexis to milk your pulsating cock. Her sensual body rubs make your body tense up and your dick harden. You reach for a feel of her huge tits, almost popping out of her bra. She lets you and you rub her nipples. Shes turned on now and tells you she wants to jerk your dick. You pull your hard dick out and she grabs it, forcefully. Your in a world of pain now as shell let you sum but only for a price.