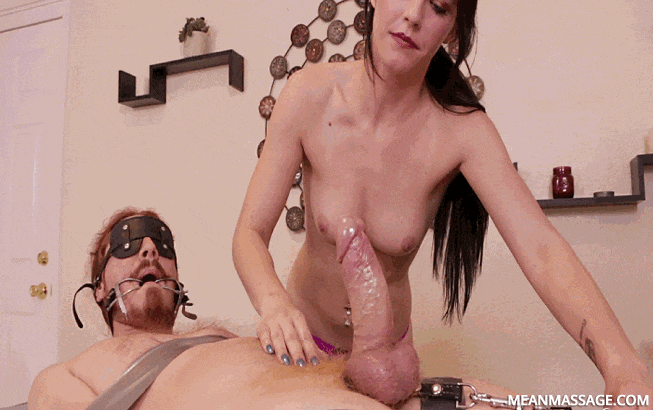 Megan Malibu is a mistress on a mission. She's desperately looking for a slave to milk and perform a little post orgasm torture on but since she knows no one will willingly respond to such a request, she places an ad for sensitivity training with a massage thrown in for good measure. James answers the ad not really knowing what to expect but when he gets to her massage room, he's tied up, bound and gagged and then his cock gets teased by the hot brunette masseuse until he spurts out a massive load. This is definitely not the sensitivity training he had in mind!
This new episode from MeanMassage.com should be a warning to everyone to always be cautious of what ads you respond to, unless of course you're the adventurous type because sometimes responding to a seemingly innocent ad can lead you down an unexpected path and if you don't believe that, ask James who answers an ad only to end up getting dominated by a hot chick who teases the fuck out of his cock!
First she blindfolds him and tapes him to the table so he's completely helpless and then she gags him and ties a chain to his cock which she tugs mercilessly sending shock waves up his spine and then she runs her finger tips up and down his sensitive cock making his cock twitch as she brings him to the brink of an orgasm. She sits on his face and jerks him off hard while yanking at the chain on his cock until his balls tighten and a massive load shoots out of his cock!